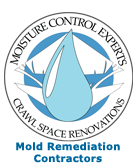 MOISTURE CONTROL EXPERTS
Charleston South Carolina's Certified Mold Professionals
Summerville: 843.871.4530
Mt. Pleasant: 843.881.4011
info@moisturecontrolexperts.com

Mold contamination drives 2nd family from home
Published on 07/10/08
By Prentiss Findlay
The Post and Courier
A second Daniel Island family has moved out of their D.R. Horton-built house after getting results of a mold test because the parents are concerned about their children's health.

David and Terry Pittman said Wednesday that they decided to leave the house July 4 after consulting the ear, nose and throat specialist for their son, Anders, 7, who has suffered repeated ear infections. The highest level of mold contamination was found in Anders' room, the Pittmans said.

"It's a toxic environment. It's mainly because we have children that we should not be in that environment," Terry Pittman said.

Anders Pittman's hearing is diminished, and he has scar tissue from the infections. He can't relieve pressure in his ears in the way that a person does normally. "That's the way he is all the time. We're praying that this is reversible," Terry Pittman said.

The Pittmans were concerned about their house because their next door neighbors, Benjamin and Joy Allen, moved from their D.R. Horton house more than a month ago after receiving results of a mold test. The Allens said their daughter, Madeleine, 3, has suffered repeated serious respiratory problems. The family pediatrician advised that they leave the house.

As part of the mold testing at the Pittman house, three sections of vinyl siding were cut open, revealing rot and mold, David Pittman said. "I think we're kind of still in a state of shock. I can't believe the extent of the damage," he said. David Pittman said window flashing was not installed to keep moisture out of the walls.

Mold inspector Terrence Tully of Moisture Control Experts inspected both houses. He said improperly installed window flashing allowed moisture in walls that created mold in both houses. Tully said another resident of Jordan Court, where the families live, has scheduled a mold inspection for today.

Paul and Joan Quam of the Rivertowne subdivision of Mount Pleasant have sued D.R. Horton because of mold in their house. They said they have spent more than $100,000 to correct moisture problems in walls and remove mold. They moved out of the house last summer for nine months but have returned. Before they left the house, Paul Quam's doctor told him he had the early stages of mold poisoning.

An attorney for D.R. Horton, Kyle Dillard, did not respond to e-mail and phone messages Wednesday. The Daniel Island Co. and D.R. Horton parted ways in 2001, so the company is no longer building homes on the island. "It was a mutual agreement. The customer service was an issue," said Daniel Island Co. Communications Director Julie Dombrowski.

Reach Prentiss Findlay at 937-5711 or pfindlay@postandcourier.com.