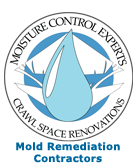 Foundation Repair & Mold Removal in Charleston SC
Services in the Summerville & Charleston SC Area
Moisture Control Experts LLC. has been serving the Charleston, Goose Creek & Summerville SC area since 1998. Our certified, knowledgeable, and experienced staff makes us your number one choice for mold testing & removal, foundation repair and french drain systems.

We specialize in:

Mold Inspections, Mold Testing & Mold Removal
Crawl Space Encapsulation & Renovation
Foundation Repair
Sump Pump & French Drain Systems
Allergen Testing
Dehumidification Systems
Structural Repair
Environmental Consultants
View Our Services Below:
Visual Mold Inspections
Mold inspection done by certified mold remediator. We visually inspect the your structure for possible defects, trouble areas and or humidity issues.
Infrared Thermography
Easiest, quickest, non destructive method of detecting hard to find moisture and water intrusion. Infrared cameras show exactly where water problems are occurring without costly removal of sheetrock or exterior siding.
Air Quality Sampling
Air samples are also taken with sensitive equipment along with slide samples. These samples are sent off to an independent lab with results returned within 24 – 48 hours.
Mold Remediation
Mold will be expertly remediated following OSHA 1910.134 guild lines with post air quality and spore slide tests to show that remediation was Successful.
Allergen Testing
Carpets, bedding air can also be checked for high allergens such as dust mites pollen or dander.
Structural Drying
Quick response to sudden water intrusion such as a burst water line, leaking roof, natural disaster or any other catastrophe.
Crawlspace Encapsulation and Dehumidification
Breathe fresh air and protect your home which is your most valuable asset by installing one of our crawl space encapsulation and dehumidification systems. Not only will you be breathing cleaner air you will be protecting your home from costly repairs caused by mold and wood destroying fungi.
Sump Pump / French Drain systems
Remove unwanted water from under your home and in some cases before it enters the crawl space. A system can be designed for you home to remove and discharge water Tag Heuer Replica a safe distance from the homes foundation Audemars Piguet Replica.