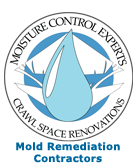 Crawl Space Encapsulations & Renovations
For Charleston, Mt Pleasant, Summerville, Goose Creek & Hanahan SC
Our Services Include
French drain systems
Encapsulation and dehumidification systems
Dehumidification systems (3-year warranty with service contract)
Mold removal
Anti-microbial treatments (spot treat or full sub flooring system)
Vapor barriers (30-year warranty)
Sump pump systems
Structural damage repair
Concrete block piers
Is Your Crawl Space:
Moldy, damp or musty
Full of standing water after heavy rain fall
Damaged from wood destroying fungi caused by moisture or high humidity
Have termite or other wood destroying insect damage
Full of nasty pests or insects
Do You Have?
Constant flu-like symptoms
Foul odors in certain areas of your home
Soft or spongy areas on flooring
Hardwood floors that are cupping or separating
Damaged insulation on HVAC duct work
Peace of mind that you are breathing clean air in your home
20-year warranties on areas that area treated with anti-microbial
Uncontrolled moisture creates an environment which supports mold growth, wood destroying fungi and unwanted pests. Crawl space moisture comes from various sources: the soil, humidity, condensation from damaged insulation on HVAC duct lines, leaking water supply pipes and leaking plumbing waste lines. If left uncorrected humidity and moisture in your crawl space will damage the flooring structure of your home. It can also lead to a mold issues inside and under your home which can affect your long term health.
We Can Help
Call us today for a free written estimate on any one of our encapsulation and dehumidification systems. We do have the solutions at reasonable prices. Ask us about our 20 year warranty on our Anti Microbial treatment (if mold returns we will re treat area at no charge to you).
For further information on crawlspaces please visit http://www.crawlspaces.org or http://www.rlcengineering.com/csfallacies.htm