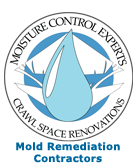 MOISTURE CONTROL EXPERTS
Charleston South Carolina's Certified Mold Professionals
Summerville: 843.871.4530
Mt. Pleasant: 843.881.4011
info@moisturecontrolexperts.com

Another family moves out over mold problems
Published on 07/09/08
By Prentiss Findlay
Another Daniel Island family has moved out of their D.R. Horton-built house after receiving results of a mold test.

David and Terry Pittman said Wednesday that they decided to leave the house on July 4. They have two boys, ages 7 and 5. Terry Pittman said she consulted with the family pediatrician and an ear, nose and throat specialist, who reviewed the mold test results.

"It's mainly because we have children that we should not be in that environment. It's not a good environment, but especially for children," Terry Pittman said.

The Pittmans live in the Etiwan Park neighborhood on Jordan Court. They are next door neighbors of Benjamin and Joy Allen, who left their house more than a month ago after receiving results of a mold test.

Mold inspector Terrence Tully of Moisture Control Experts inspected both houses. He said improperly installed window flashing allowed moisture in walls that created mold in both houses. Tully said another resident of Jordan Court has scheduled a mold inspection for Thursday.

The Pittmans bought their house new eight years ago for $210,000, Terry Pittman said. "I'm disgusted," she said. For the time being, they are living with friends in Mount Pleasant.

Paul and Joan Quam of the Rivertowne subdivision have sued D.R. Horton because of mold issues in their house. They said they have spent more than $100,000 to correct moisture problems in walls and remove mold. They moved out of the house last summer for nine months, but have returned. Before they left the house, Paul Quam's doctor told him he had the early stages of mold poisoning.

An attorney for D.R. Horton, Kyle Dillard, has not responded to e-mail and phone messages for comment on the Quam lawsuit. Dillard did not immediately respond Wednesday to phone and e-mail messages regarding the Pittman house. He has said that the company will hire an independent inspector to examine the Allen house.