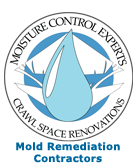 MOISTURE CONTROL EXPERTS
Charleston South Carolina's Certified Mold Professionals
Summerville: 843.871.4530
Mt. Pleasant: 843.881.4011
info@moisturecontrolexperts.com

High mold counts prompt another Island family to abandon home
Published on 08/12/08
By Tom Ratzloff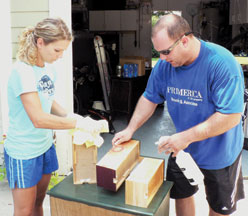 Toys, furniture and assorted household items baked in the afternoon sun on Corn Planters Street this weekend. But what looked like a looming driveway yard sale was in fact a salvage effort aided by rags, respirator masks and fungicides.

These implements have been the weapons of choice this summer for three dislocated Daniel Island families trying to restore a sense of order to their lives.

Brandy and Brian Crawford are the latest island family to abandon their house because of toxic mold in the past two months. Earlier, two families on Jordan Court moved out of their homes because they feared the high mold levels were harmful to their health.

And that is why the Crawfords left their 11-year-old house at 105 Corn Planters St. a couple weeks ago. Brandy and Brian say that they both have had near-constant headaches and constant fatigue since moving into their home in October 2006. Their oldest son, Evan, 5, has reported similar symptoms and has had many doctor visits for ear and respiratory problems. The Crawfords' youngest son, Connor, 2, has also had health difficulties, including a perforated eardrum that may require further treatment.

"My head would be pounding and I'd say, 'My head is really hurting.' And Brandy would say, 'Mine, too.' Then Evan would point to the middle of this forehead and say, 'My head hurts right here,'" Brian said. "We've all had lots of doctors visits for sinus problems and respiratory infections."

The Crawfords decided to have their house tested for mold after reading stories about the Jordan Court families and their health problems. Terrence Tully of Moisture Control Experts conducted the testing while the family was on vacation.

"With everything those families have gone through and the health problems we've been having, we were just doing it to be proactive, for some peace of mind," Brandy said. "But when Terry told us the results of his testing, we were absolutely shocked. He said the mold counts were higher in our house than any other home he's done so far on Daniel Island."

Consequently, the Crawfords decided to move out immediately, a decision that has taken an emotional and financial toll on the entire family, according to Brandy.

"We have a home-based business that had just reached its one-year anniversary," she said. "We were getting to the point where things were looking pretty good. But now it feels like we're going backward. The kids want their toys and they can't understand why they can't go home."

After initially staying with friends, the Crawfords rented a town home on Pierce Street. Paying monthly rent on top of a mortgage payment is very challenging, they said.

"We needed to get a place to live in," Brandy said. "School is starting in a week and both of the kids need a home for some stability in their lives. But financially, it's tough. It's literally one day at a time."

Allens file lawsuit

The Crawfords have hired Daniel Island attorney Patrick McDonald, who also represents Ben and Joy Allen and David and Terry Pittman, the two families who evacuated their Jordan Court homes because of mold infestation. All three mold-contaminated houses were built by D.R. Horton.

McDonald filed a lawsuit last Friday in Berkeley County's Ninth Judicial Circuit Court of Common Pleas on behalf of the Allens against builder C. Richard Dobson Builders, Inc. and its parent company, D.R. Horton Inc. Cardinal Home Inspections, which conducted an inspection when the Allens bought their house at 100 Jordan Court in 2005, is also listed in the suit. The Allens' co-counsel is attorney Fritz Jekel of Motley Rice LLCF in Mount Pleasant.

The complaint alleges that the Allens' D.R. Horton/Dobson-built house has a number of construction defects and deficiencies that contributed to water intrusion and subsequent mold growth. This includes improper roof, window and door installation. It also alleges that mold and fungal growth have jeopardized the health of both Ben Allen, who has multiple sclerosis and an impaired immune response system, and the Allens' 3-year-old daughter Madeleine, who has experienced allergic reactions to the mold and fungal growth that have required medical treatment.

The complaint alleges that D.R. Horton/Dobson "exhibited a conscious disregard for the health and well-being of homeowners through a history of poor construction techniques, poor hiring and supervision, and inadequate subcontractor control." It further alleges that D.R. Horton/Dobson made a conscious decision to not use flashing around doors and windows in order to reduce construction costs, even though the lack of flashing can create serious moisture intrusion problems within less than 10 years."

The lawsuit came after weeks of unsuccessful negotiations between the Allens and D.R. Horton, which hired industrial hygienist Andy Schauder of SanAir Technologies Laboratory to inspect the home on July 18. Schauder found two primary entry points for moisture in a front window and a rear door. He also found that total indoor fungal counts were significantly lower than those found in outside air.

"This is significant because the total fungal count is the number which determines whether there is an indoor air quality problem," wrote D.R. Horton's attorney W. Kyle Dillard. "These results demonstrate that persons within the Allen house are exposed to lower concentrations of mold and therefore less likely to experience respiratory problems caused by an allergic response, than they would be outdoors. In other words, even if mold has grown at either of the water-damaged locations, it has had no detrimental effect on overall air quality."

Dillard noted that those findings mean that the mold levels found in the Allens' house would be of no consequence for people with otherwise healthy immune systems. But because of Ben and Madeleine Allen's underlying health conditions, Schauder recommended that D.R. Horton repair the two moisture entry points and remediate the mold inside the house.

But the Allens rejected this offer as being inadequate.

In response, Dillard wrote, "D.R. Horton previously stated that it would have the Allens' house inspected by a certified industrial hygienist and then offer to perform any work recommended by that hygienist. We have done exactly that. In short, we have asked for a chance to repair the problem, and we have even offered to allow the Allens to approve the contractors that will be used. Nevertheless, the Allens have chosen to reject Horton¹s offer and deny us the chance to help them get back into their home."

But McDonald characterized D.R. Horton's offer as being disingenuous and inadequate.

"Obviously, from the outset, the Allens had a strong preference that their unfortunate situation be resolved in a thorough but expedient manner," McDonald said. "D.R. Horton's last offer was sheer lip service without any real investigation and resulting fix involved. There was nothing substantive at all contained in the proposed 'repair' of only three windows. D.R. Horton needs to take full ownership of this matter and quit trying to put a band-aid on a severed limb. They need to pay for licensed engineering services to fully uncover the cause of the water and mold intrusion and pay to have it completely remedied to everyone's satisfaction."