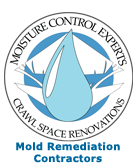 MOISTURE CONTROL EXPERTS
Charleston South Carolina's Certified Mold Professionals
Summerville: 843.871.4530
Mt. Pleasant: 843.881.4011
info@moisturecontrolexperts.com

Jordan Court 'mold monster' renders local family homeless
Published on 07/03/08
By Tom Ratzloff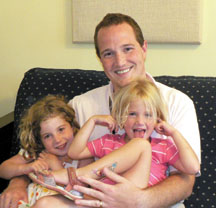 More than a month has passed since doctors ordered a young Daniel Island family to abandon their home. It happened after inspectors told Ben and Joy Allen that their eight-year-old-house at 100 Jordan Court appeared to have major construction defects and contained hazardous levels of toxic mold.

Since their abrupt exodus, the couple and their daughters, Ellie, 4, and Madeleine, 3, have depended on the kindness of neighbors and friends for shelter. Meanwhile, Ben and Joy are trying to get the house's builder to fix the problem – estimated to cost at least $200,000. The Allens paid $419,900 for the home in 2005.

Meanwhile, their young daughters cannot understand why they aren't allowed in the house to play with their treasured stuffed toys. And why they can't sleep in their own beds. Construction terms such as "improperly flashed windows" and "water infiltration" are alien to them.

But Ellie and Madeleine have their own theory: the house has a "mold monster."

Family health problems

For people with certain health ailments, toxic mold exposure can indeed be monstrous, even life-threatening. Unfortunately, two Allen family members have been diagnosed with conditions that can be exacerbated by the presence of dangerous mold spores.

In 2005, Ben, then 30, collapsed one month after the family moved into their Jordan Court home from Washington, D.C. The former special assistant for national security with the current Bush administration was rushed by ambulance to Mt. Pleasant's East Cooper Regional Medical Center with partial left-sided paralysis. Subsequent exams by local neurologists from Medical University of South Carolina as well as specialists from Johns Hopkins and Duke concluded that Ben has an atypical form of multiple sclerosis.

"I've had to re-learn to walk twice since being diagnosed," said Ben, who uses a cane and is no longer able to drive. "After the neurological episode, I couldn't stand up because the vestibular nerves in my brain that regulate my balance had somehow been affected by the MS and it took months of effort to recuperate."

Ben underwent chemotherapy after his diagnosis and receives monthly infusions of Tysabri, a drug developed to reduce MS symptoms by inhibiting white blood cells from getting into the brain and attacking nerves. But these treatments also encourage immune suppression and make him more susceptible to infections, particularly infections from mold.

"An infection can contribute to and/or cause an MS exacerbation and MS progression," said Ben, who has been classified as "totally and permanently disabled" since 2006. "I've had numerous treatment-resistant respiratory infections since we moved into our house and my family physician can corroborate this."

While he has come to terms with his condition, Ben said it has been very tough to accept that mold in their home might have caused unnecessary pain and suffering for his youngest child, Madeleine. She, too, is highly susceptible to infections because she has neutropenia, a disorder that suppresses production of disease-fighting white blood cells.

"My poor daughter Madeleine has been terribly sick with respiratory issues," Ben said. "She's fine now that we've been out of our house for a month, but it's been nasty. It hasn't been a good situation. When Maddy came here, she was 6 months old and perfectly healthy. When she started getting sick, doctors initially thought she had lymphoma and were going to do a lymph-node biopsy. Let me tell you, holding a 2-year-old for weekly blood tests while she screams and cries is painful. She didn't deserve any of that and that angers me."

Thankfully, Joy, a music therapist for Trident Hospitals, and 4-year-old Ellie have been healthy since living on Jordan Court. Ben said his wife has been the "keystone" that holds their family together.

"I have the strongest wife in the world," he said. "She works with people that are dying and she's just an extremely good person. She's had to deal with my medical issues and my daughter's medical issues and she has remained strong. I love her to death."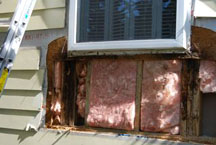 Unraveling a moldy mystery

Like a canary in a coalmine, Terrence Tully's throbbing headaches tell him when lots of mold is nearby. The veteran contractor said he has developed serious mold allergies after years of exposure to the Lowcountry's ubiquitous spores. And he has the allergist bills to prove it.

"When I walked into the Allens' home, my head started to pound big-time and I thought, 'This isn't good,'" said Tully, who owns Moisture Control Experts, LLC in Mt. Pleasant and Summerville.

But it took scientific investigation, not a migraine, to prove that the home at 100 Jordan Court had serious problems. Destructive testing in the family room revealed moisture and decay caused by water seeping into the home through unflashed, improperly flashed and poorly sealed windows. Significant water damage was also found underneath exterior siding.

After photographing the damage, Tully sent mold samples to a Virginia laboratory that is certified by the Indoor Air Quality Association. The mold analysis by Hayes Microbial Consulting revealed dangerous levels of toxic molds such as aspergillus, which has been linked to asthma and other respiratory illnesses as well as ear, sinus and other systemic infections.

Although the Allens never saw visible mold inside their house, Tully was summoned to their home in late May after Ben thought he smelled mildew by a front window. In addition, the couple had noticed that some other Jordan Court homes built in 1999-2000 by the same builder were receiving new siding and other extensive repairs.

"When Terrence Tully came out here, I told him, 'I'm hoping that I'm throwing money down the drain. I'm really hoping that you don't find any mold,'" Ben recalled. "But given what he discovered, I'm glad that I smelled that mold when I did."

Building booms & workmanship

Ben and Madeleine Allen's fragile health and their home's mold infestation added up to a "perfect storm" that seriously threatened their well-being. But similar moisture issues in newer homes are not uncommon these days in the Lowcountry, according to Tully. For example, he was scheduled to inspect another Jordan Court home this week after its owner reported suspicions that his house might be in even worse shape than the Allens'.

"The buildings that some contractors are putting up today are nothing like the ones that were built when we were kids," said Tully, 51, who has worked in home construction for more than 30 years. "It's amazing how shoddy the craftmanship is."

Awaiting resolution

The Allen family will soon mark its seventh week of being homeless. Ben and Joy hope that the builder will pay for their home repairs and provide temporary living arrangements without a court battle. Failing that, the Allens have enlisted the services of veteran mold litigator Fritz Jekel of Motley Rice Attorneys of Mt. Pleasant and Patrick McDonald, a construction attorney based on Daniel Island.

Ben said he asked the builder's company representatives to visit their house immediately upon learning about the mold problem. He said a month elapsed before four company representatives, including the builder's attorney, inspected the property June 26. Ben was going to videotape their visit but he said the builder's attorney told him that they would not proceed with the inspection if he recorded their activities. Ben relented and said the subsequent inspection seemed insubstantial, according to Ben. Their focus seemed to be the family dishwasher, which has no history of leakage or moisture problems, he said.

When the company representatives concluded their inspection, Ben said they chatted between themselves in the Allens' driveway.

"My daughters came over to where they were standing and Ellie said, 'Daddy, are they fixing our house?'" Ben recalled. "I said, 'No, they're just investigating.' Then she said, 'Daddy, are they going to get the mold out so we can go inside to play?' That just about broke my heart."

Editor's note: The builder's attorney wrote via e-mail June 30 that he would issue a company statement regarding the problems at the Allens' home. However, it was not received by the time this issue went to press.