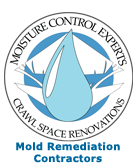 MOISTURE CONTROL EXPERTS
Charleston South Carolina's Certified Mold Professionals
Summerville: 843.871.4530
Mt. Pleasant: 843.881.4011
info@moisturecontrolexperts.com

Moisture Control Experts - Testimonials
Angies List "A" Rated Reports
August 12, 2014

Due to their scheduling and an ill employee, they didn't get here to assess the situation, however, once they did get here they worked diligently to complete the work professionally and promptly.
July 03, 2014

I've never worked with a such a great company. We had Moisture Control Experts come out to do an estimate on a house we were thinking about buying. The estimate was so thorough that we knew how many joists and even the square footage of sill that we had to have replaced. We got many estimates for the job (which was lifting the house, almost a complete rebuild of the bottom, mildew treatment, and full encapsulation). Moisture Control was not the cheapest, but they were by far the most thorough and professional. We felt completely reassured that our house would be taken care of, and boy were we right! Jody and his crew are extremely hard workers and went above and beyond to take care of our house, even though our crawlspace was very bad. We are so thankful for these guys. We were able to use their estimate to negotiate exactly what we needed out of the purchase price, AND we are so happy to have our house done right so that we can live a lifetime in this house. If you have mildew problems, you can trust Moisture Control Experts to tell you exactly what you need to do to fix it and rest assured that they will do a thorough and complete job to protect your house. They may not be the cheapest, but I feel like when you want to protect your house and the air you breathe, the best is the better way to go.
April 05, 2014

The workers arrived on time..kept us informed daily and were very professional. They cleaned up everyday. Wood had to be cut and sawdust was swept up and lumber stacked. Because of rain they could not work one day but came on Saturday morning ti finish the job on time. I job superviser, Jody, is a total professional, always ready to answer any questions. He said he would be back to inspect after a few weeks to make sure everything is working as it should. I have already recommended this company to a friend.
June 18, 2013

We had a foundation repair company do some repair to our foundation. They had to do the work from the crawl space under the house. We asked tham to cover the dehumidifier unit that Moisture Control installed about five years ago. In the process they ended up turning a dial that controls the unit. As a result, the unit was in effect turned off. They came came to the house and reset the control. When I asked for the bill, they said "no charge". Now that's really outstanding service.
May 20, 2013

Moisture Control Experts were very professional and timely with all items promised for our moisture control and crawl space enclosure project. Work crew was very polite, started on time, and did an excellent job. I would highly recommend the company.
May 07, 2013

I have never delt with a more professional, responsive, reliable and trustworthy company in my life. We had some serious level 3 contaminated water issues as a result of a broken pipe under my crawl space. This issue occurred while I was out of town for business and my wife was home alone with our two children. Upon returning home, I contacted Moisture Control Experts and within a day he was at my home assessing the situation. It was apparent to me from the onset that they very well-versed in this field and were more than capable of handling the situation at hand. It was extremely comforting to me to deal directly with the owner of the company and to know that he truly was an expert. It was furthermore comforting to know that he could handle all issues that arose from the water damage from top to bottom (literally). They did not downplay the situation at all, but they did put me at ease in assuring me that they would address the situation in a very thorough manner and adhere to all regulatory and safety standards in doing so. During the course of the water removal and mold remediation, Moisture Control Experts brought to my attention that my crawl space was taking on water due to poor drainage. They showed me the problem instead of just explaining it to me and there was absolutely ZERO pressure to spend additional money. They simply explained and showed the problem at hand and I never felt as if I was being pressured into buying any kind of additional service. After learning about issues that come as a result of standing water in a crawl space, I made the decis (...)
December 24, 2012

Quaility service prompt and professional. Did what he he said he would do. Did not try to up sell the job. Delivered what he promised. Made my inside air safe for my family
December 16, 2012

We purchased a house that had been renovated, and learned over a year later that a mold issue had been covered and painted over. Moisture Control Experts assessed the problem, took measurements to define it, and provided detailed remediation plans with options and well documented cost estimates. The guys removed and repaired the active mold area, as well as installing humidifiers under the house and in the garage, where the original problem was located. Moisture Control Experts were prompt and courteous, kept us advised of what was happening in the process, and did what they said they would when they said they would. Moisture Control Experts are contractors and also provided advice on several ancillary issues. Hard to beat service like this. What we learned from this is that if you're having a home inspection done, make sure you select a reputable home inspector.
September 22, 2012

Humidity in the South is an issue. Our house was built in 1978 and the crawl space was in bad shape. Annual termite inspections always reported increasing amount of floor joist original insulation falling down (~50%) and sweating HVAC lines. All of the old insulation was removed, panels installed on walls, heavy duty plastic sheeting installed on walls and ground, dehumidifier, and new crawl space access door. The difference is dramatic and I am very pleased with results so far. We refered Moisture Control to one of my wife's coworkers who've had a similar experience. The company was highly recommended to us by a realtor friend. I've had two occasions for a follow up check and the response each time has been very good. Service after the sale means a lot to me and if it was bad I wouldn't recommend them at all for that very reason. Their quote based on thorough inspection was not the lowest we received. But, with our friend's endorsement we went with Moisture Control and feel like we made a great decision.
September 10, 2012

I never had such a group of polite, hard working knowledgeable caring professionals in my home. After the work was completed our home smells clean and fresh, our headaches are gone and the moldy odors are a thing of the past. I would recommend Moisture Control Experts to anyone who suspects they have crawl space issues or moldy, musty odors in their home; this company is top notch professional.
June 07, 2012

We had some mold, they did some mold tests. They incapsulated underneath the house. They actually found another issue regarding the piling under the house which they were able to fix. They were excellent. It was superb.
January 18, 2012

I had them do a mold inspection on my house. They had a hand on everything and thought all of their services went well. (Transcribed from a telephone interview)
December 09, 2011

I had my house tested for mold. I was surprised by the cost initially, but the house is large and multiple mold tests were taken. Each mold test is sent off to a lab, and they over-nighted the samples. They were extremely thorough and more importantly, did not recommend unnecessary remediation. He produced a very professional report after the work was done.
February 03, 2011

Moisture Control Experts inspected my crawl space and determined the needed level of remediation to correct an excess moisture problem, provided me with an indepth assessment and recommended plan and cost. They cleaned the crawl space, removed existing floor insulation, fogged (for mold), installed a new moisture barrier, sealed existing crawl space vents, cut a new crawl space entrance, and installed a Santa Fe dehunidifier. They also supplied a moisture monitor for the crawl space. Project took a crew of four about 3. 5 days. Outstanding. they coordinated with other tradesmen performing termite treatment and HVAC duct repair. The crew was not only professional, but very pelasant, polite, and neat. They also noted a drain isue and repaired it at no cost. All work was completed exactly on time, and on budget. Supervisor personally inspected the completed project, noted some minor issues needing attention, and had his crew return to correct them the following day. Notably, $0.00 was required by this company prior to completion of the project to my satisfaction. I enjoyed working with these guys.
October 04, 2010

Moisture Control Experts inspected the crawl space, did not test me to death but made sure all the areas I wanted tested were done. 100% trust worthy and professional. Based on the service Ive recieved, I think the price is a steel. There is no doubt in my mind everything is being done correctly and better than any other service. I would absolutely use Moisture Control Experts again and refer them to everyone I know. Perfect!
May 06, 2010

Moisture Control Experts came out inspected the crawl space. They took pictures of the crawl space, insulation that was tore up by animals. They designed and installed a dehumidification system under the house. Within a week there was a noticable difference quaility of the homes breathing air and no more odors. Our health has improved since the system was installed. Moisture Control Experts and their crew were very knowledgeable and professional. They arrived when he said they would and completed the job jn minimal time and the cost was very reasonable when compaired to other like businesses only $4200 The Crwal space is now clean and could be used as a short basement. Would definitely recommend this company to anyone with moisture problems.
November 30, 2008

Moisture Control Experts had previously worked for us. We contracted with them to eliminate the mold and to install a large dehumidification unit in the crawl space. We did not bother to get another quote for the work to be performed simply because we felt very comfortable with their knowledge and professionalism. The electrician installed a separate 20 amp circuit for the dehumidification unit. Several days later, a three person crew arrived to close off the outside air vents, install the dehumidification unit and related duct work, and to fog the 3,000 square foot crawl space area with a fungicide deodorizer to kill the mold spores. It took them the better part of a day to complete the work. They came back several days later to re-test for the presence of any mold. None was found and the humidity in the crawl space had dropped significantly.
October 09, 2008

Found some mold under the house and gave us a proposal to remove the mold and to install a dehumidification unit in the crawl space. We accepted the proposal ($5,000) and are now scheduling that work to be done.
August 25, 2008

He was a big help, even came back a second time to check on things himself. He was also very available and helpful over the phone. He was extremely knowledgeable in his field of expertise. I would highly recommend them to anyone.
June 26, 2008

Project was completed smoothly and on time with no significant delays. Team was professional and very friendly. I would highly recommend this contractor to anyone requiring crawl space rework. They did an outstanding job!
April 10, 2008

Moisture Control Experts came out and did estimate on crawl space and the exterior of home. They were very professional, on time, and on budget. When the time came for the work, the crew showed on time, treated us in a professional manner, cleaned up every day, and got the job done on time.
March 14, 2008

Wonderful! Moisture Control Expert is really great to work with and I can't say enough nice things about them. They know their business very well, makes great recommendations, explains everything he is going to do thoroughly and completely.
March 01, 2008

Very good; low humidity under house, very satisfied.
February 29, 2008

They did a great job! I would highly recommend them!
September 30, 2007

I was very pleased with the service I received from Moisture Control Experts. They throughly explained the tests they made. They provided information on my options for treating the problem. They were very courteous and professional. They were on time for our appointment and the crew arrived on time as well. The work was completed faster than estimated. The mold smell is gone along with my wife's headaches. It was a pleasure to do business with Moisture Control Experts and I highly recommend that anyone suspecting a problem give them a call.
For more details please search for us on Angies List to view!