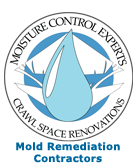 Mold Inspection, Removal &
Foundation Repair in Charleston SC

---

Moisture Control Experts LLC performs environmental services including foundation repair, allergen testing, mold inspections, mold testing, mold remediation, new construction mold prevention, structural drying and water damage restoration. All mold testing and mold inspections are discreet and confidential.

Serving Charleston County, Dorchester County and Berkeley County, South Carolina.

Moisture Control Experts LLC.

---

Moisture Control Experts LLC has been servicing the Charleston South Carolina and surrounding areas since 1998, becoming the area's only choice in commercial and residential mold testing and remediation services. Our highly trained staff also specializes in foundation repair, crawl space encapsulation and dehumidification systems.
Testimonials
July 03, 2014

I've never worked with a such a great company. We had Moisture Control Experts come out to do an estimate on a house we were thinking about buying. The estimate was so thorough that we knew how many joists and even the square footage of sill that we had to have replaced. We got many estimates for the job (which was lifting the house, almost a complete rebuild of the bottom, mildew treatment, and full encapsulation). Moisture Control was not the cheapest, but they were by far the most thorough and professional. We felt completely reassured that our house would be taken care of, and boy were we right! Jody and his crew are extremely hard workers and went above and beyond to take care of our house, even though our crawlspace was very bad. We are so thankful for these guys. We were able to use their estimate to negotiate exactly what we needed out of the purchase price, AND we are so happy to have our house done right so that we can live a lifetime in this house. If you have mildew problems, you can trust Moisture Control Experts to tell you exactly what you need to do to fix it and rest assured that they will do a thorough and complete job to protect your house. They may not be the cheapest, but I feel like when you want to protect your house and the air you breathe, the best is the better way to go.

Moisture Control Experts LLC membership and continuing education with the Indoor Air Quality Association not only makes us the right choice but the only choice for your mold remediation company. Don't chance your mold project to untrained, uncertified , uninsured companies that are just entering this fast growing field. Trust your mold project to a trained, certified, insured professional, call us today.
Mold Testing and
Mold Inspections

As licensed mold testers and mold inspectors, we see all kinds of mold problems. Our mold testing and mold inspecting technician will give you honest answers with real results.

Our mold testing and mold inspections are discreet and confidential.

Why would you need a mold inspection?
Molds can cause serious health issues to children, the elderly, and persons with suppressed immune systems.

Mold spores can even cause problems and health effects even if the spores are dead. Molds can grow undetected inside wall spaces, under carpeting and inside HVAC systems.

Because of these reasons our highly trained inspector does a thorough inspection along with air quality testing and humidity readings.

Once results come back from the independent lab (24 hours) and if building, home or office is found to have mold or fungi issues, a protocol plan will be drawn up to get air quality back to a healthy, uncontaminated breathing zone. Building, home, or office will be visibly mold free and back to a condition 1 state which is a normal fungal ecology.

Health Spotlight:


Black Mold - Strachybotrys Chartarum

What is Stachybotrys chartarum (Stachybotrys atra)?

Stachybotrys chartarum (also known by its synonym Stachybotrys aka Black Mold) is a greenish - black mold.

It can grow on material with a high cellulose and low nitrogen content, such as fiberboard, gypsum board, paper, dust, and lint. Black mold growth occurs when there is moisture from water damage, excessive humidity, water leaks, condensation, and water infiltration. Constant moisture is required for black mold growth.

Stachybotrys is a documented mycotoxin producer and its health effects have been reported to cause dermatitis, cough, rhinitis, and headaches. Stachybotrys will germinate, grow and multiply on building materials eventually leading to material degradation and potential negative effects upon the quality of the indoor air.

Black Mold information provided by the CDC

Your Crawl Space:
Crawl space Encapsulation and dehumidification Systems

It is a documented fact that 30% to 60% of the air you breath in your home comes from you crawl space air. Most crawl spaces have a tendency to be damp, humid breeding ground for mold, wood destroying fungi and bacteria caused by vermin waste. Moisture and humidity in the air promotes mold and fungi growth which in the long run can be detrimental to you or your family member's health.

We can help. We clean out the entire crawl space, and tailor an encapsulation dehumidification system for your home and condition it like a short basement. Fogging with EPA approved fungicide, biocide and antimicrobials is also available to kill all mold and fungi spores and deodorize the crawl space air on the extreme cases.

Your crawl space will be a sealed, dry, humid free conditioned area that will be vermin, mold, fungi and bacteria free. Your homes breathing air will be much cleaner and healthier, you will be protecting your flooring sub structure from wood fungi damage and your *energy bills reduced.

Call today for a free crawl space evaluation; you will be glad you did.

*Energy bills are reduced on homes with HVAC trunk lines in the crawl space; our system dries the pipe insulation and keeps it dry. Wet insulation on ductwork does not insulate.

*All dehumidifiers installed are UL energy star rated.
All Mold Testing and Mold Inspections are Discreet and Confidential
Google+